Tranquil, Peel Forest
Peel Forest - a favourite weekend escape
A laid back and uncrowded village in the heart of one of NZ's last remaining podocarp forests.
It's full of beautiful easy to achieve native forest walks with waterfalls. Or, to test your fitness, set aside half a day and climb up Huatekerekere/Little Mt Peel.
There's even and a licensed cafe right in the heart of the village. Base yourself here and explore mountainous Mesopotamia.
For the best things to do while you're here.....read on.
---
Get walking in nature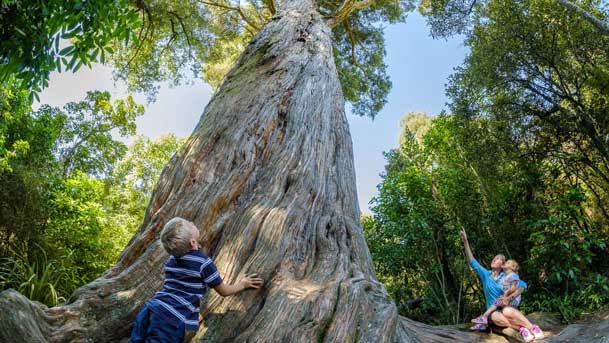 1. Visit ancient totara
Big Tree Walk is a great option if you want an easy, short walk. It leads you to an ancient totara.
Starting at the Te Wanahu picnic shelter, the half-hour walk takes you to Mills Bush and a totara thought to be 1,000 years old.
2. Walk among 68 fern species
If you like walking among ferns, then try Fern Walk.
It is a three-hour walk that follows the forest edge near Te Wanahu Flat along the southern boundary of the reserve to Blandswood.
A highlight on this walk is the park's 68 fern species.
3. See waterfalls
Take Acland Falls Walking Track if waterfalls are your thing.
It's a one-hour return walk that climbs steeply, levels off a little and then drops to a small stream. The 14-metre high falls are a short walk up the streambed.
The other great track to see waterfalls is the Rata and Emily Falls track.
4. Climb a mountain and be back in time for lunch
A more challenging four-to-six-hour hike takes you up Huatakerekere/Little Mt Peel for spectacular views.
The walk leaves from Blandswood lookout and climbs 1,000 metres to the summit of Little Mount Peel.
The track is steep but well-formed and has great views to Mount Somers, Mount Hutt and across the plains to the coast.
---
Camp out
Peel Forest Park is home to a Department of Conservation camping ground at Clarke Flat, which offers cabin, tent and motorhome sites – it's the only area camping is allowed in the reserve.
---
Visit the historic Mount Peel Station Church
The Church of the Holy Innocents at Mount Peel Station was a gift to the community by John Barton Arundel Acland and consecrated on 30 May 1869. The church was named after John Barton Acland's three infant children who are buried in the churchyard cemetery.
The church features stunning stained glass windows and is set on the hill overlooking the Rangitata River where some of the stone used to build the church was sourced.
---
Chill at the Green Man Cafe & Bar
The hub of the village is Green Man Cafe, a licensed cafe and bar, known for hosting awesome music. Great food, craft beer and beautiful wines - we recommend planning your Peel Forest trip around a stop here.