ROAM Driving Loop App
The Central South Island is an area of stunning landscapes from the Pacific Ocean to the Mackenzie Country.
One of the best ways to explore is to drive the loop around the beautiful hydro lakes, starting and finishing in seaside city Timaru. It's a favourite road trip for locals and car and motorbike clubs.
It takes approximately four hours to complete, however, you're going to want to stop, stay and play along the way.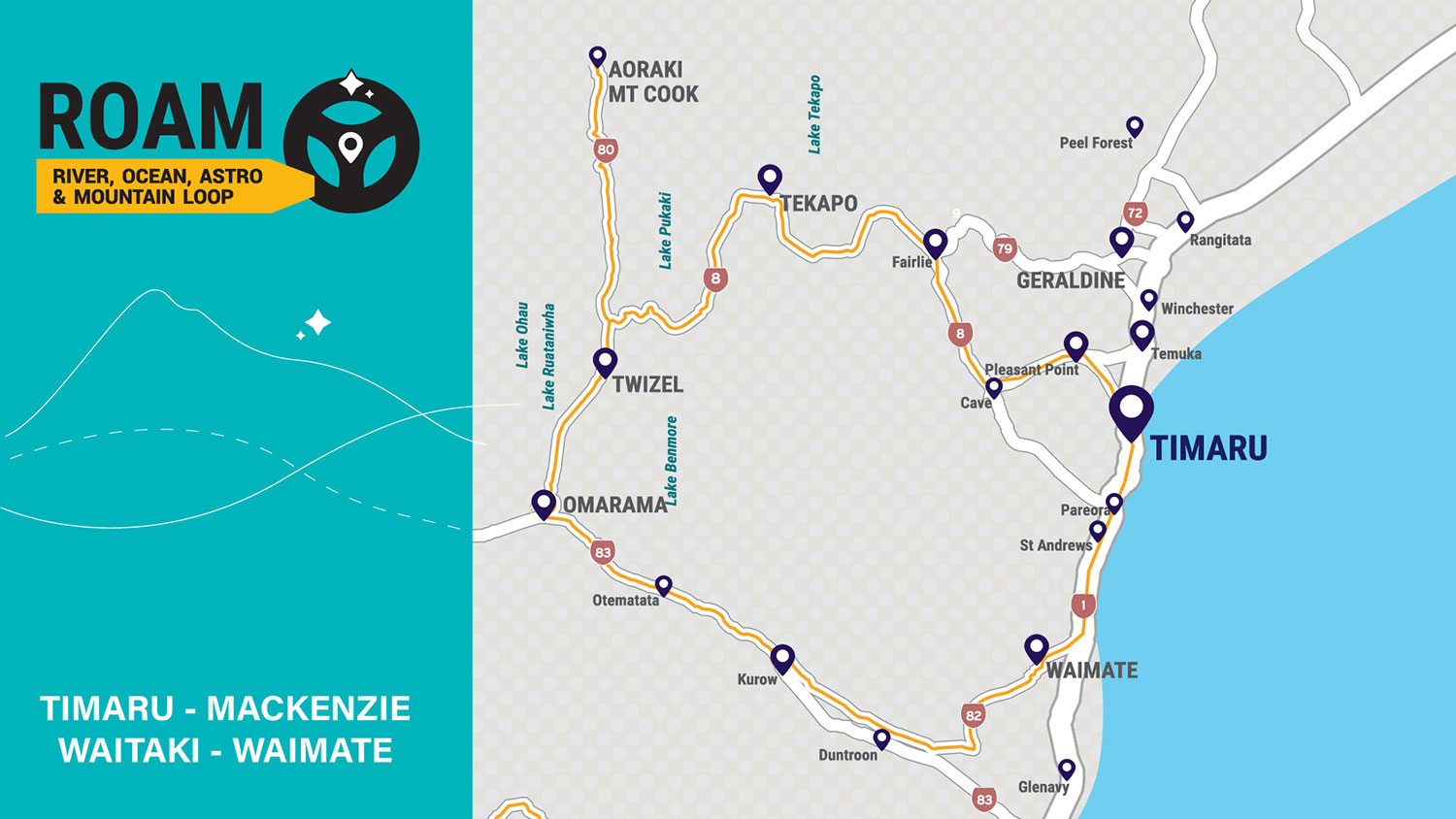 We've launched the ROAM Loop Driving App to help you navigate this stunning drive.
ROAM (River. Ocean. Astro. Mountain) will have you uncovering all the must-visit spots that locals know and love.
Visit iconic South Island locations like Aoraki/Mt Cook, Caroline Bay and the Omarama Clay Cliffs. Wine, dine and coastal walk in the little seaside city Timaru. Check out the geology and wineries of the Waitaki Valley. Explore superb walking and biking tracks, and spectacular street art in Waimate.
Other ROAM must-dos:
Take a dip in the Pacific Ocean, in turquoise lakes and in the mighty Waitaki River
Stargaze in the Southern Hemisphere's only International Dark Sky Reserve
Climb a mountain, get on your bike, walk all the tracks
Eat all the good food along the way
Explore ancient glaciers and podocarp forests
Fossick in cool vintage and boutique stores
See little penguins, and explore ancient Māori rock art
Go skiing in the winter and then warm up in hot pools
Take a detour to Victorian Oamaru, foodie haven Geraldine or fabulous Peel Forest
---
Download the free app
You can download the app to your phone from the App Store or Google Play.
You can also view the web version of the App from your PC or laptop.
---
Getting here
Timaru is on the East Coast of Te Waipounamu, the South Island, approximately halfway between Christchurch and Dunedin. There are direct daily flights into Timaru Airport from Wellington.