Birthplace of mighty Phar Lap
If you love Phar Lap, then put Timaru on your itinerary
Phar Lap, (also known as 'Australia's wonder horse', 'big red', 'bobby' and 'red terror') was born at Alexander Roberts' Seadown Stud, not far from Timaru City.
He never raced in New Zealand, but throughout his short career he managed to capture the hearts of multiple nations, including ours.
Born on October 4th 1926, his pedigree was such that Sydney trainer Harry Telford persuaded American businessman David J Davis to buy the colt at auction.
He was bought for what seemed like a bargain price, but when he arrived in Sydney, he was "gangly, his face covered in warts and he had an awkward gait". Davis was allegedly furious when he saw the state of the horse and refused to pay to train him. Telford agreed to train him without pay, in exchange for a two-thirds share of any winnings, a great move in hindsight.
His success
Phar Lap's winning streak started a little slowly, he finished last in his first race! He went on though to win the Melbourne Cup in 1930 by three full lengths.
He won 32 of his last 35 races finishing with a great surge of speed. He had 14 wins in a row, absolutely thrilling the crowds at the time of the Great Depression.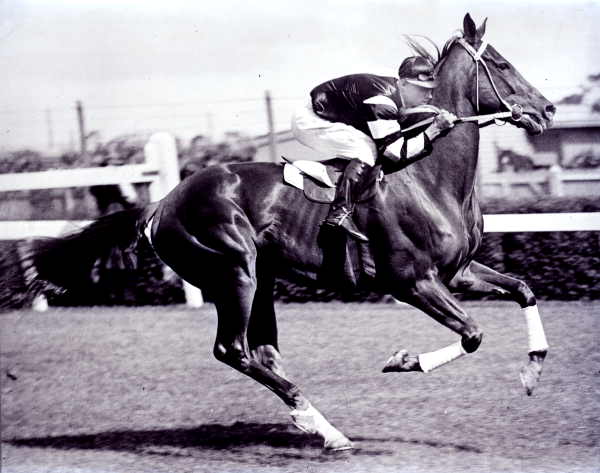 Photo Charles Daniel Pratt, 1893-1968 - Held in the collection of the State Library of Victoria
Untimely death
Having risen to the top of the Australian racing circuit, the crowd favourite was brought to North America, where he died 12 days later.
It appears he died from either deliberate or accidental arsenic poisoning. One theory is it was carried out by U.S gangsters to prevent him upsetting their illegal bookmaking operations, although there is no evidence to support this.
He died in the arms of Tommy Woodcock, his loyal strapper.
What made Phar Lap so special?
He was a large horse, standing at 1.74m tall, and he won his races with incredible bursts of speed, generally several lengths ahead of the rest of the race.
He burst onto the racing scene during the Great Depression. His winning streak gave people across multiple continents a welcome distraction. He was seen as a hero to people struggling through the hardships of the era.
After his death, his heart was found to be around 1.6 times larger than that of the average race horse.
Such was the love for mighty Phar Lap, his remains are spread across New Zealand and Australia. His skeleton can be viewed in Te Papa in Wellington, his heart in Canberra, and his hide in Melbourne Museum.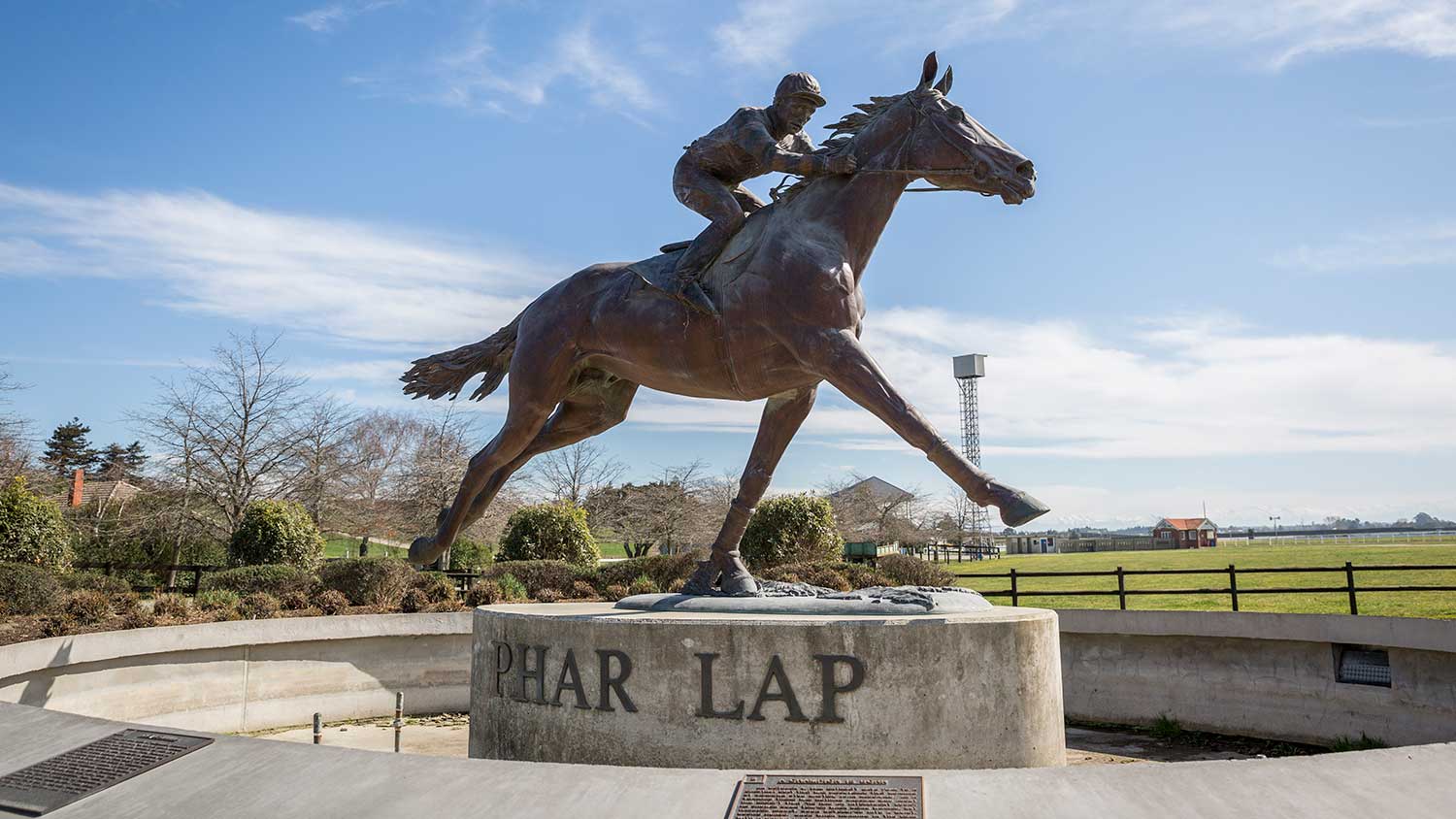 Pay your respects in Timaru District
You can revisit the place it all started, the area where Phar Lap was born and spent his first two years.
First stop:
Visit the life sized bronze statue on State Highway 1 at Phar Lap Raceway, Timaru District. Not far from the place of his birth. It's an Instagram worthy photo stop.
Second stop:
Carry on your Phar Lap themed journey by popping into Cafe Phar Lap at Hopkinsons for yummy refreshments and retail therapy. Here you can see the stables where Phar Lap was housed before heading to auction and across the Tasman Sea.
The stables are currently used for storage, but it's fascinating to think he was stabled right there.
Final stop:
Your next stop is the South Canterbury Museum, a fabulous place to visit and a must-do for heritage buffs. Upstairs in the movie theatre you can view a movie on Phar Lap, produced and told from a local angle.
---
Sources.
https://en.wikipedia.org/wiki/Phar_Lap
https://nzhistory.govt.nz/death-of-phar-lap
https://www.australiangeographic.com.au/blogs/on-this-day/2017/04/phar-lap-death/