The Feelers - Reimagined - Greatest Hits NZ Tour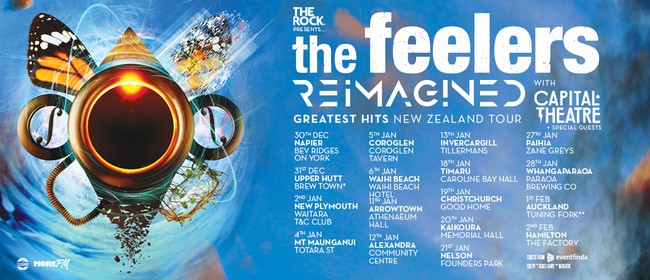 Caroline Bay Hall, Timaru, South Canterbury
The Feelers Announce Reimagined - Greatest Hits - New Zealand Summer Tour

17 dates nationwide with Capital Theatre + special guests
 
Following on from the release of the band's REIMAGINED – GREATEST HITS album, The Feelers are hitting the road this summer with a brand-new live show and with good friends Capital Theatre in tow. 
The Feelers extensive jaunt across the country to mark the release of REIMAGINED - GREATEST HITS will see the band treat their legion of fans to a live set exploding with all of their epic classic hits. 
 
For this tour, James Reid (vocals and guitar), Hamish Gee (drums), Andy Lynch (guitar) and Clint Harris (bass), renowned far and wide for their distinctive rock sound and exhilarating live shows, also welcome the addition of keyboardist Andy 'Keys' Cochrane, which will allow an exploration of some newly arranged REIMAGINED songs in support of the latest album. 
 
Gee enthuses: "I'm really looking forward to touring this album and venturing into a number of towns and venues not played before, as well as our favourite summer venues of course! I'm also looking forward to connecting to the fans during our VIP sessions." 
 
For the first time ever The Feelers make available a VIP ticket which will enable fans to get even closer to the band. 
The VIP tickets will include; 
 
- Exclusive performance songs not performed in the main set 
- Meet n Greet The Feelers 
- Get a selfie with the band 
- 1 hour earlier access than GA 
- First chance at merch 
 
Capital Theatre will deliver a high energy set including songs heard throughout the airwaves, such as Underworld - Force To Fight - People - Delicately Poised and Fait Accompli.
This information is provided by
Eventfinda