Creating a Dementia Friendly South Canterbury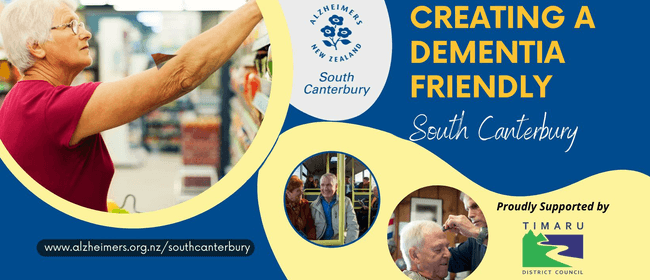 Sopheze on the Bay, Timaru, South Canterbury
Alzheimers South Canterbury invites you to this exclusive event for local organisations and buisnesses to learn how they can become more Dementia Friendly and gain accreditation from the National Dementia Friendly Recognition framework.

"A dementia-friendly community is one where people with Dementia can live, play, shop and work. It is a place that is kind, supportive, inclusive, patient and understanding. Places that are easy to navigate and designed with he needs of people with dementia in mind."

Morning Tea will be provided.

Please RSVP by Friday 13th May to Rosie (Service Manager) at southcanterbury@alzheimers.org.nz. Together we can make our local commumity dementia-friendly.
This information is provided by
Eventfinda