Family escape to Geraldine
A fabulous uncrowded place to escape to with the whānau is the charming village of Geraldine, in South Canterbury NZ.
There's so much to do here for families, and a lot of the best activities are completely free.
Geraldine is just 30 minutes' drive from Timaru City and 1.5 hours' drive from Christchurch.
Geraldine is also the gateway to beautiful Peel Forest, and the perfect base to explore the Mackenzie region.
---
We decided to stay at Grumpy's, about 5km north of Geraldine.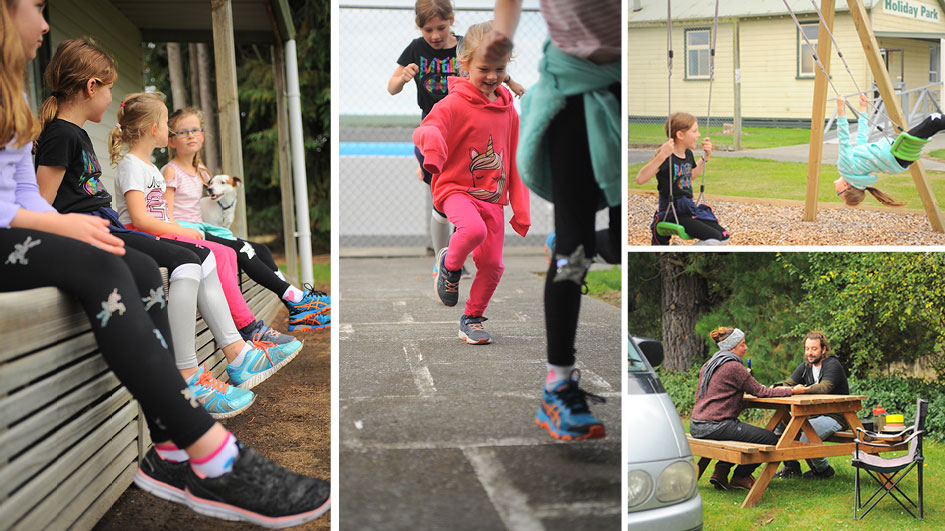 We stayed in the 3 bedroom 'Country Cottage', perfect for a family holiday with full kitchen facilities.
There's enough family entertainment here that it makes for a laid back family holiday destination in itself.
Facilities include a fantastic children's play area with jumping pillow, swings, double tennis courts (rackets & balls provided), a games room with a pool table, and a swimming pool for the warmer months. Grumpy's is also pet friendly.
Holiday Parks are a great option for families, with affordable quality accommodation and so much to do at no extra cost.
---
Walking and bat spotting
One of the best ways to experience Geraldine is on foot.
We grabbed some lunch at The Running Duck, such a cool place, set up to resemble the classic kiwi bach.

We then walked a loop that took in the Riverside Walkway, Talbot Forest and the main shopping area with its specialty stores and eateries.
You can check out the route here: Arts and Plants Walkway map.
There are also plenty of biking trails around Geraldine, with bike hire available from the Top Ten Holiday Park.
Wayne at Alps to Ocean also does bike hire for some more 'serious' rides.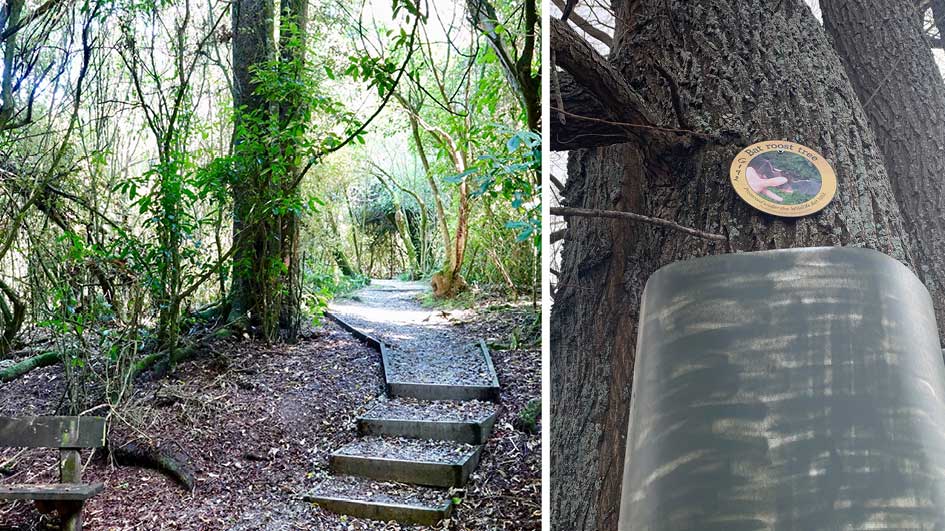 When you're in Talbot Forest keep an eye out for native bats!
If you're there on dusk you may be lucky enough to see them flittering around, like butterflies.
Otherwise, keep an eye out for bat roost trees. You'll see a metal band around a tree and a little bat roost tree sign. The band is to stop predators climbing up, and if you quietly stare up into the tree you may see tiny bats sleeping.
You can learn more about these bats at the Geraldine Historical Museum.
---
Museums
Our second day in Geraldine was all about Museums and food!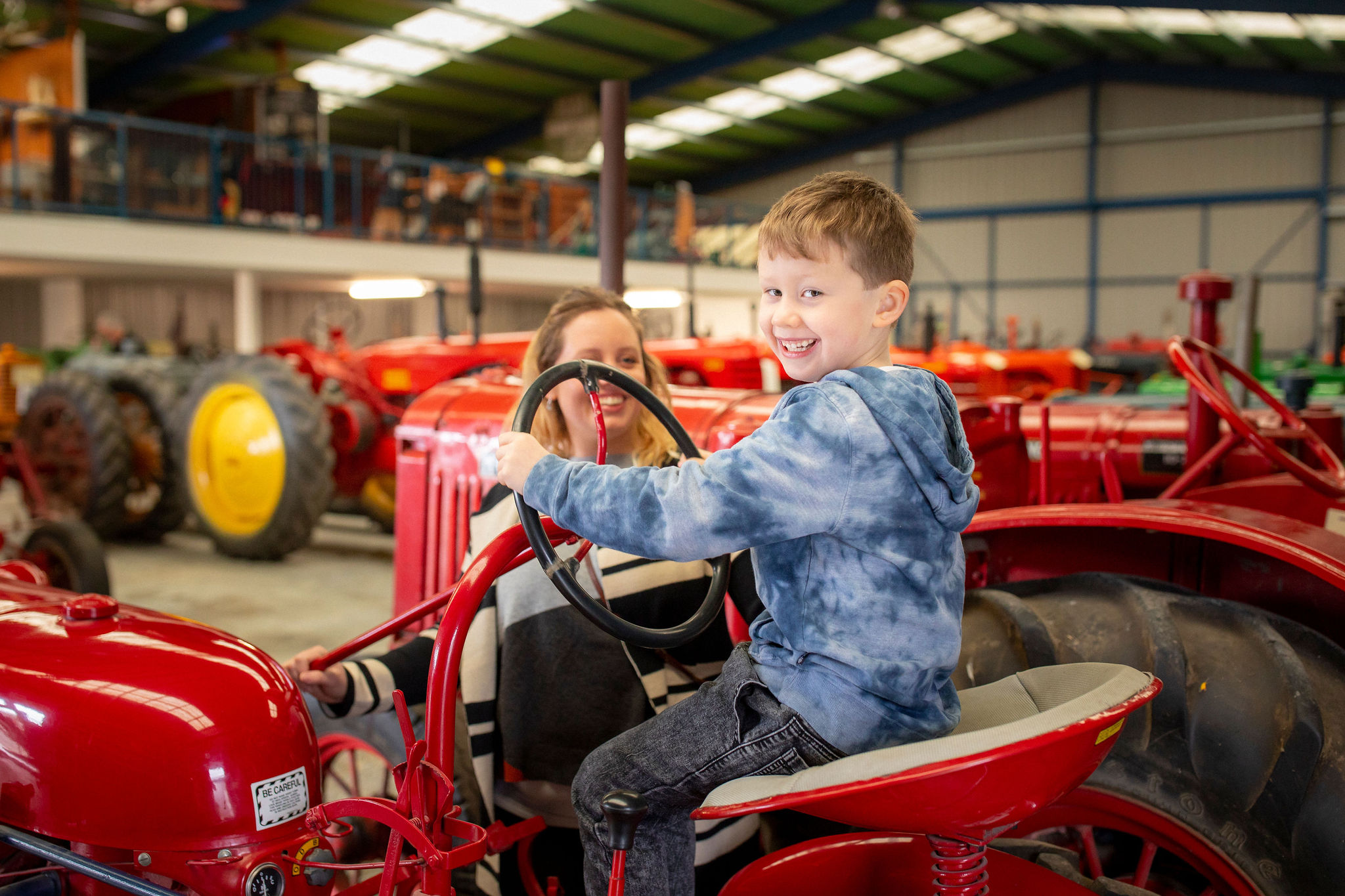 For the history buffs there are ten Museums, throughout Timaru District, all within easy driving distance of Geraldine.
No visit to Geraldine is complete without checking out both the Geraldine Historical Museum, and the Geraldine Vintage Car and Machinery Museum.
Allow a few hours for the Vintage Car and Machinery Museum, the collection is huge. It is an absolute must-visit for anyone interested in machinery, and actually surprisingly interesting for those that are not!
They operate reduced winter hours, so check with them prior to arrival to avoid disappointing little machinery lovers!
---
Picnic time
Geraldine is well known as a foodie haven, couple that with scenic beauty and it's compulsory picnic time.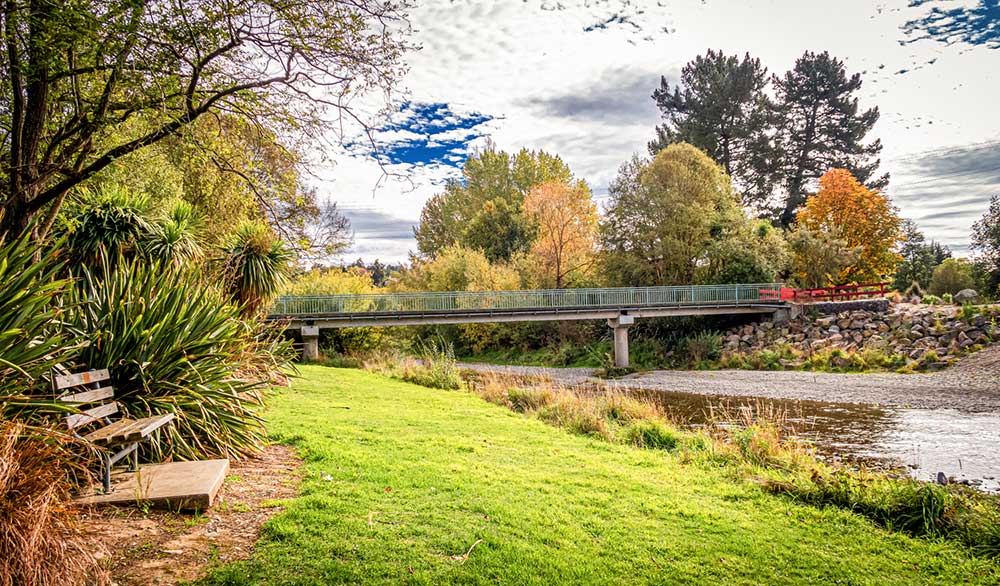 There are plenty of places to picnic in town and a short drive away, we decided on Kennedy Park as it's dog friendly and there's plenty to do.
We wandered around town picking up supplies from Geraldine Cheese Co. (formerly Talbot Forest Cheese), Cafe Verde, Fresh Choice Geraldine and Barker's destination Foodstore and Eatery.
Over the weekend we also got amazing food to bring back to Grumpy's Holiday Park from the gourmet Geraldine Butchery, The Geraldine Orchard Farmshop and Cafe, and the Cottage Pantry and Gallery.
While at Kennedy Park see if you can complete these challenges set by WuHoo Timaru.
---
While you're there
Plan your trip
Download the Geraldine Official Visitor Guide for more inspiration, and check out the Geraldine NZ website.
Visit the animals at The Farmyard Holiday Park
Another great holiday park accommodation option in Geraldine. You can also visit The Farmyard just to hang out with their menagerie of gorgeous farmyard animals. Open from 10am daily, $2 child, $5 adult or $10 family.
Explore Peel Forest
Drive 20 minutes up the road to Peel Forest for, bush walks, craft beer and pizza.
Giant Jersey
Yes you read that right, check out the biggest jersey in the world at Mundells Cafe.
Markets
The Geraldine Farmer's Market operates from October to April, it's the perfect place for fresh local produce while you're in the area.
Also check out the Geraldine Craft Market and see what the local makers and crafters have been up to.
Geraldine Orchard Farmshop
The Orchard Farmshop
is not only a great place for supplies, they make amazing real fruit ice-creams, and have a bouncy castle and soccer golf on-site.
Day Trips
Head to Timaru or the Mackenzie Region for a day trip.
Grab a seat
Check out the specials from Wellington Airport direct to Timaru.
---
Photography
Thanks to Ian Moore, Donna Shaw, Go Geraldine and Geraldine Farm Tours.