Street Art
Street art has been transforming urban landscapes and communities globally. It energises and inspires, it adds vibrancy to otherwise generic cityscapes.
Timaru's street art project has been undertaken by the legends at the Timaru Civic Trust and Alive Vibrant Timaru.
Japanese artist Koryu found himself in Geraldine over lock-down and got busy brightening the town with his amazing artworks.
So go on, wander around Geraldine and the Timaru CBD and get your selfie on at these cool sites.
---
TIMARU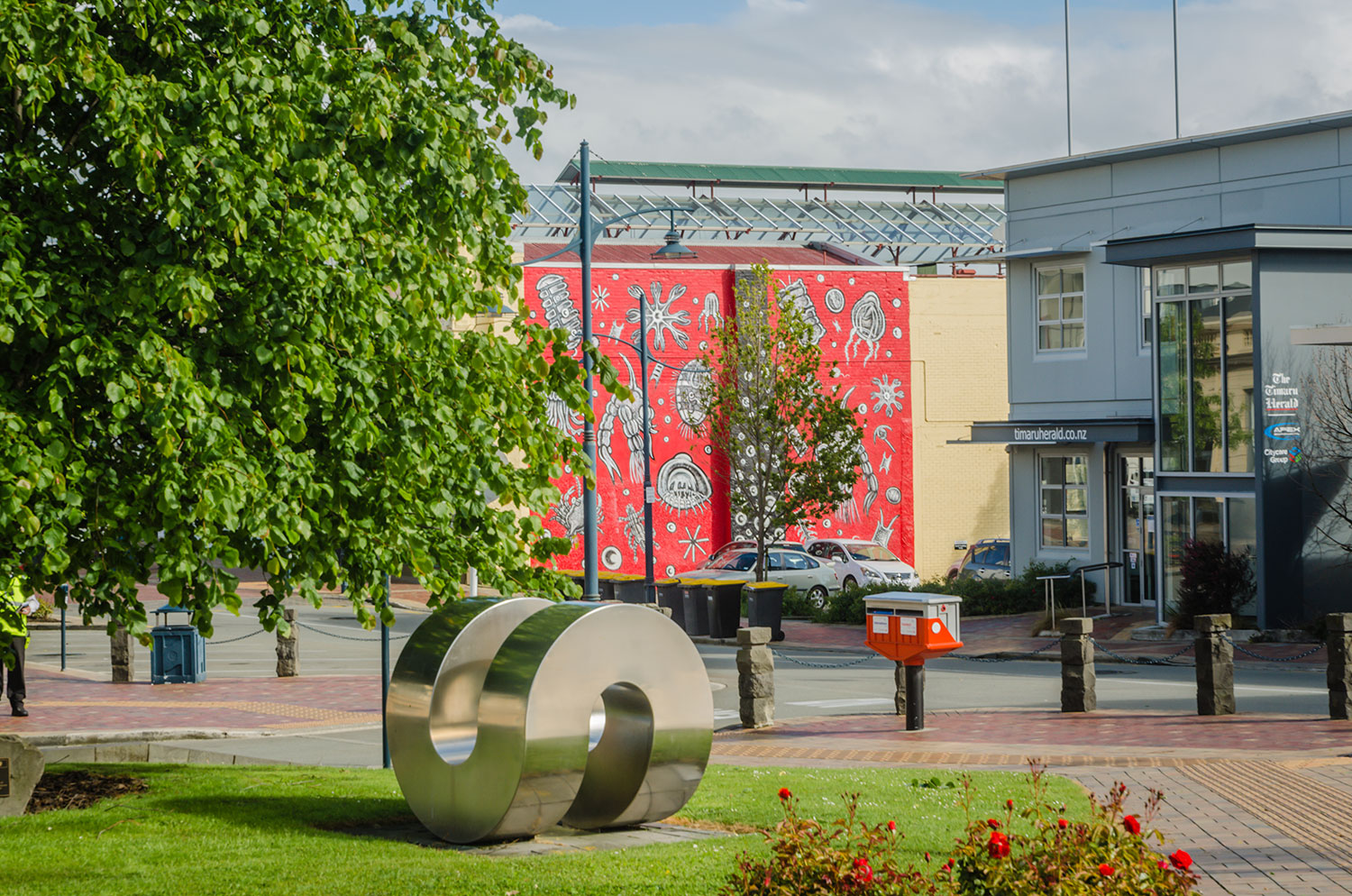 Plankton by Toothfish. Photo by Ash Ronald, Alive Vibrant Timaru.
Sophia Street/Royal Arcade
Toothfish's Plankton
Painted by Dunedin environmental activist and artist "Toothfish". This stunning red, environment themed mural, incorporates plant and plankton images.
His artist statement said that plankton were the "bedrock" of the ocean food chain, as well as the driving force of the carbon cycle.
"Humans burn coal and oil derived from the remains of prehistoric plankton and a good percentage of the carbon released in this process is sucked up by plant plankton in the ocean, who produce oxygen for us to breathe."
While you're in the area, wander down the historic Royal Arcade, constructed in the late 1880s. It's now home to a row of offices, boutique new and second hand clothing stores, Artma's spiritual gallery, hair salons, and Rasa Asia's delicious food.
---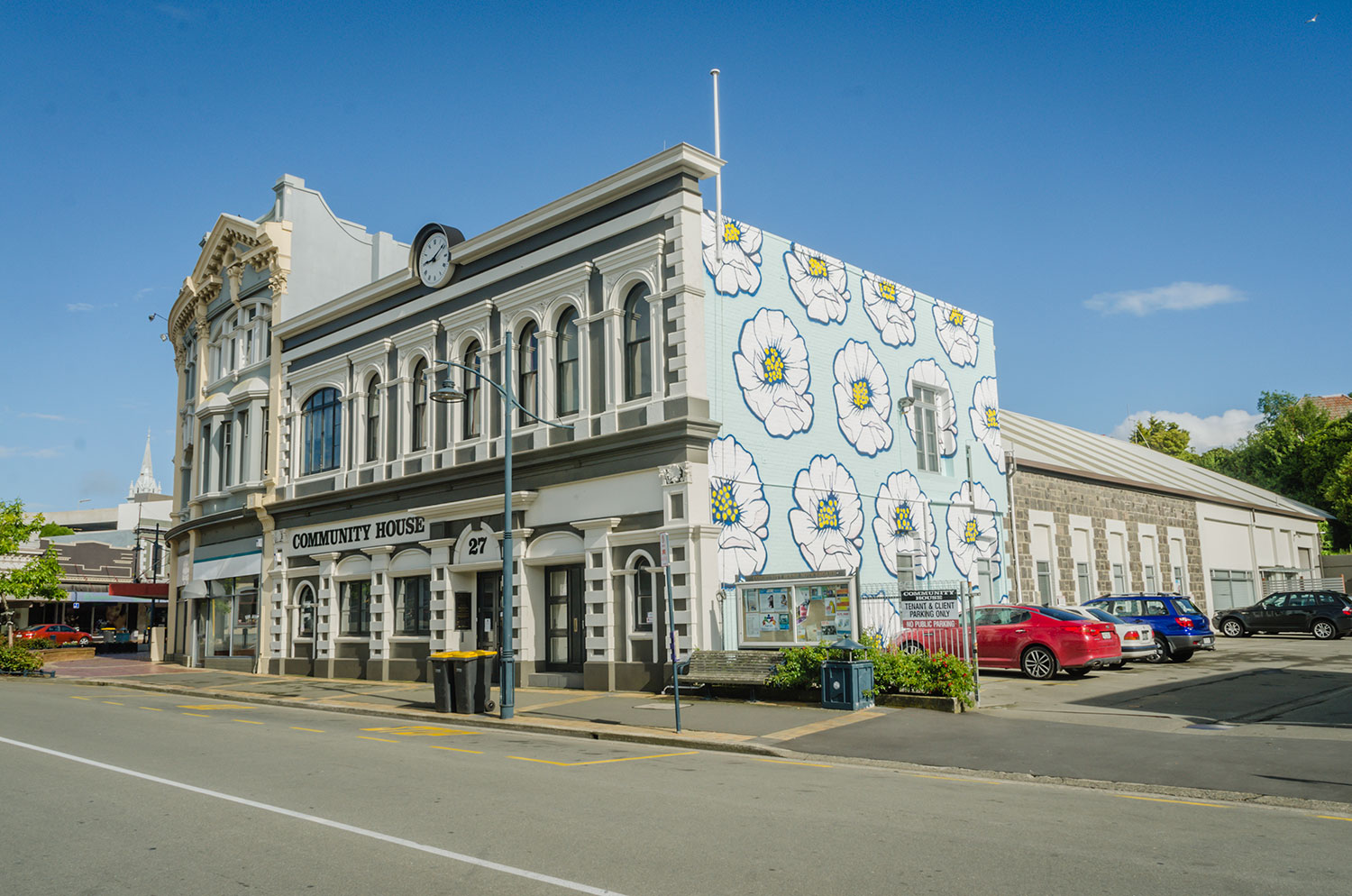 Mt Cook Lilys by Aroha Novak. Photo by Ash Ronald, Alive Vibrant Timaru.
Community House Strathallan Street
Aroha Novak's Mt Cook Lily
Dunedin artist Aroha Novak's mural – on the side of Community House in Strathallan St – also has a nature theme in the form of Mt Cook lilies painted to resemble wallpaper.
Novak said it was a nostalgic reference to the Mt Cook Airlines logo, which featured the Mt Cook lily.
A few doors down you'll find the crew at the Ship Hop Brewery. They are open on Fridays from lunchtime until around 7pm. And if you're in need of a decent steak, check out Customs Steak House.
---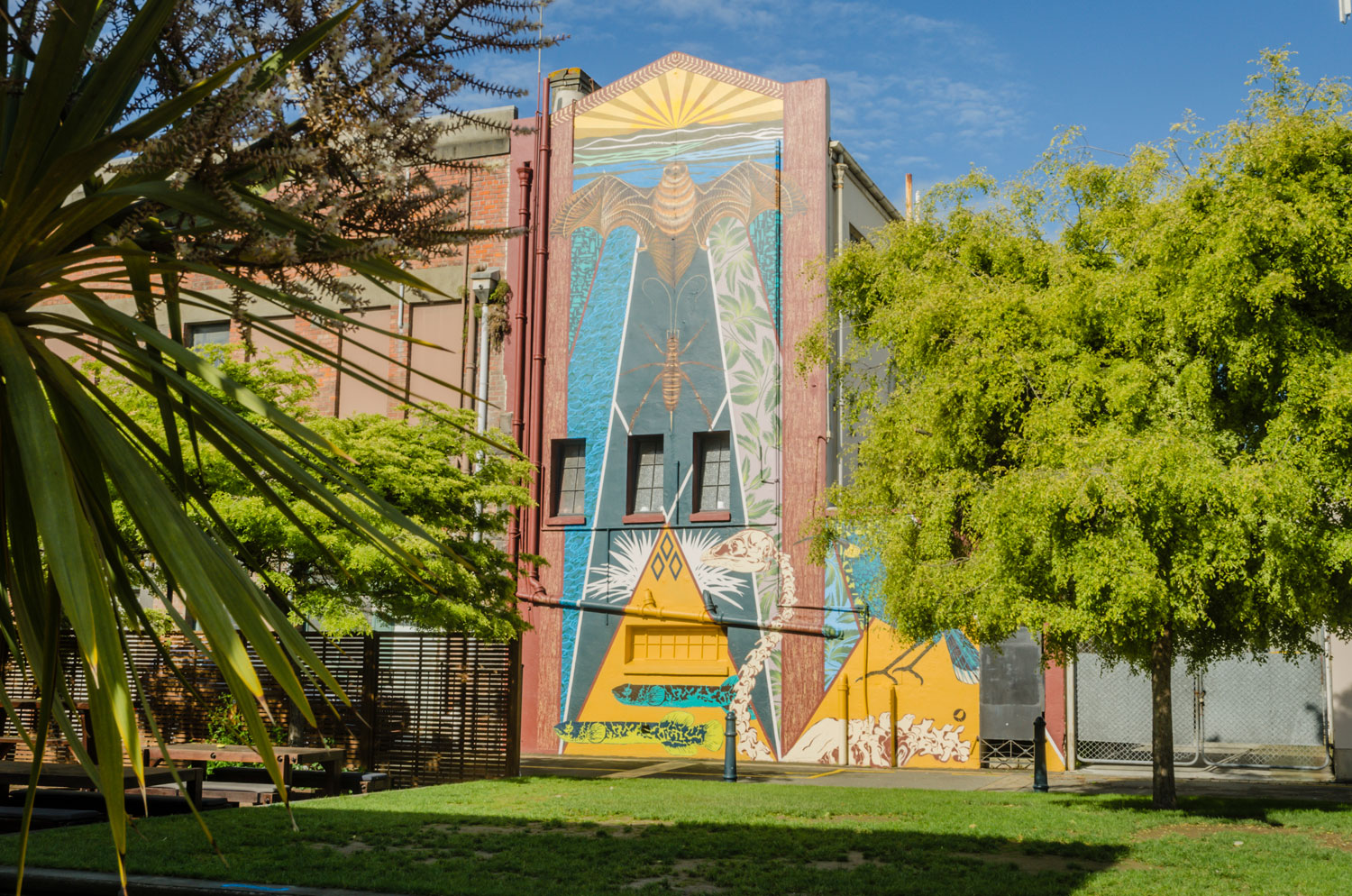 The Shelter by Flox. Photo by Ash Ronald, Alive Vibrant Timaru.
Painted on the back of Hector Blacks. Can be viewed in the Landing Services area George Street.
Flox's The Shelter
Internationally renowned street artist Hayley King, aka Flox, came to Timaru and completed her epic mural in just four days.
Her artist statement said her environmentally themed artwork referenced the area, including paying homage to Timaru's original name, "Te Maru" (the Shelter). Represented in the stunning mural are the cabbage tree, a huia, moa skeleton, long-tailed bat, weta, and mudfish against the backdrop of the mountains and Caroline Bay.
"It's just a celebration of the natural world."
The area around here is historic and there's so much to do. You have plenty of choices in eateries including Koji Tepanyaki and Grill, Street food Kitchen, Speights Ale House, Hector Blacks and The Oxford.
Te Ana Māori Rock Art Centre is a must-do interactive cultural experience, which is in the same area of the historic Landing Services Building as the Information Centre.
---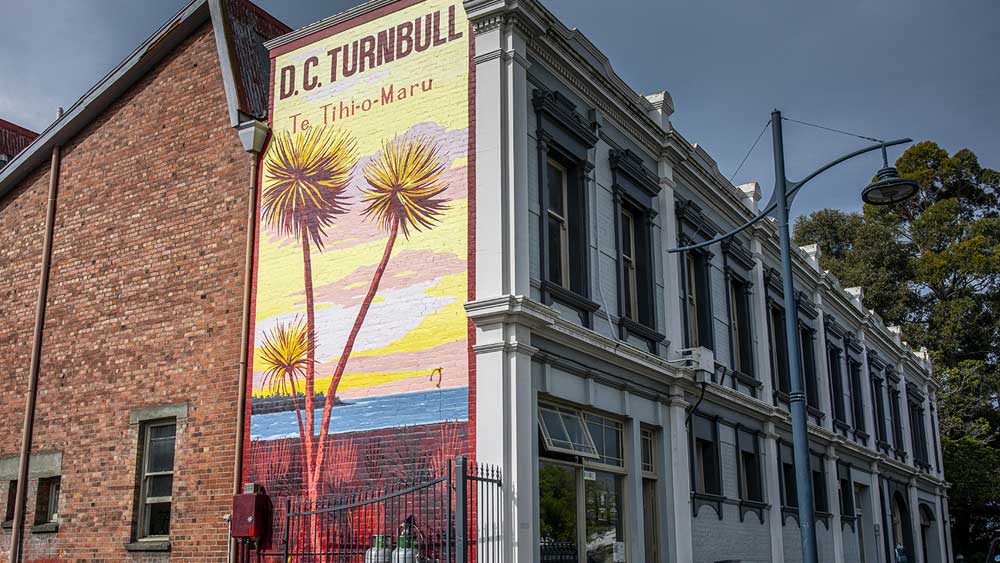 Te Tihi-o-Maru by Aroha Novak.
Painted on the D.C. Turnbull Building, Strathallan Street Timaru.
Aroha Novak's Te Tihi-o-Maru
Timaru's second Aroha Novak mural was completed in July 2020. The ti kouka or cabbage tree-centred painting was designed to look like a vintage postcard, of Timaru pre European settlement.
"The design is my idea of Timaru pre-settlement. It's like vintage postcard. The site it's on is quite long, narrow, and in portrait – so the star of the image is a tī kouka."
Novak said she chose a cabbage tree because it was "intrinsically" tied to the name Timaru or Te Tihi-o-Maru, its Māori equivalent.
"There are different interpretations of what Timaru is derived from. One point is Te Maru, which means place of shelter. The other is Tī Maru, shelter or cabbage tree."
DC Turnbull Ltd commissioned the mural on the back of a movement by Timaru Civic Trust and Alive Vibrant Timaru to bring street art to the South Canterbury town.
---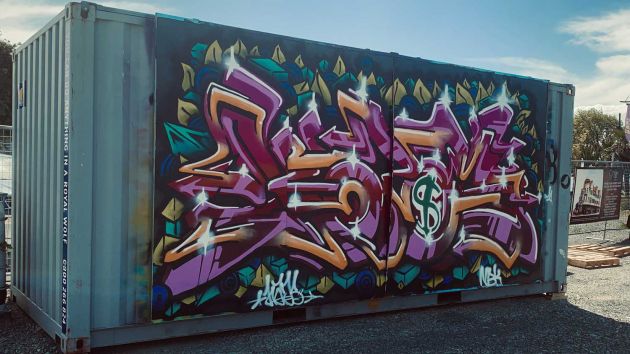 Artist Jesse Johnson painted this fantastic street art as part of the Alive Vibrant Timaru project.
You can find it in the outdoor Hydro Bar on the corner of Bay Hill and Sefton Street.
---
GERALDINE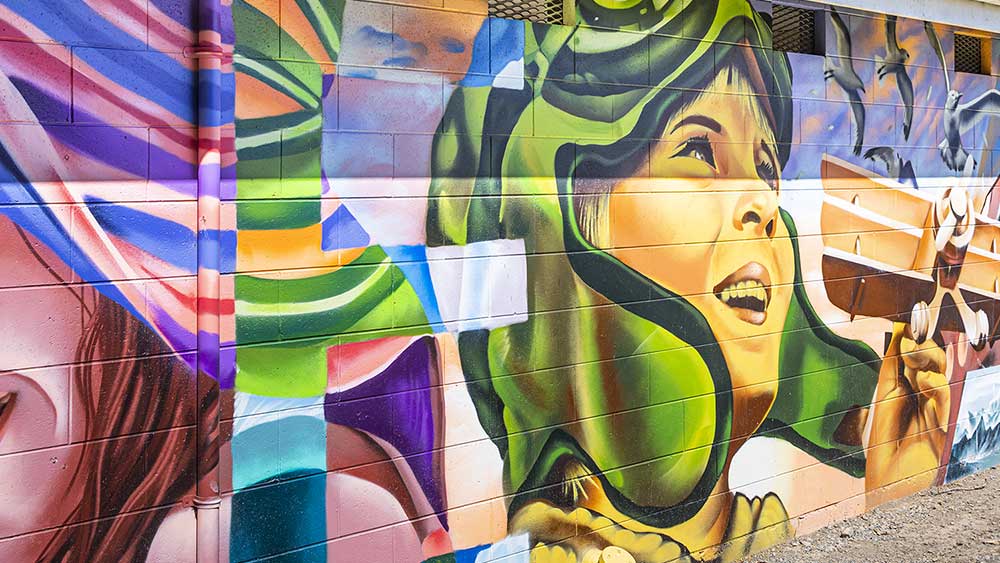 Dream by Koryu.
Geraldine Domain, beside the playground and community pool.
​Koryu's Dream
Uber talented @koryu88 has added to his Geraldine street art portfolio with 'Dream'. You'll find it in the Geraldine Domain behind the playground, there is so much to see within the mural.
​
​"A little boy dream to be a pilot. A little girl dream to be a mermaid. All the DREAMs makes your future. Keep dreaming"
​
​Thanks Koryu for your work, I'm sure it will inspire lots of little locals and visitors for many years to come.
Other Koryu lock-down creations: